Plugins, if installed more than one can help the website get a better user experience when used correctly. Also knowledge of coding is not important at all to understand plugins. Plugins for WordPress is need for have a positive SEO feedback.
There are probably more than 50,000 plugins available on the wordpress directory, all having its own qualities. If one plugin is working very efficiently on one website, does not mean it will work on your website. It's more or less based on individual experience.
Search engines are the major source of traffic for most of the internet. Optimization of your website through SEO related plugins will help you to increase your audience organically.
Read our blog about International SEO: Best Ways to Implement International SEO
What exactly is SEO?
SEO stands for search engine optimization. They increase your visibility on major search engines such as Google, Bing etc. When there's a better visibility of your website, there's a better chance you will attract more traffic to your website. 
Unlike paid search advertisements, you will not be able to pay the search engine for a high search result. So SEO indeed pays a great role in the visibility of your website.
The higher your website is listed, the better chances of people clicking on it.
Advantages of SEO
Identification of keywords
Searching for good content and optimizing it.
Searching for relevant links from quality websites.
Putting them in the directory accordingly
Measurement of search results.
How to install plugins for WordPress?
A plugin for WordPress can be installed in various ways.
Installation through WordPress dashboard
Admin Plug Uploads for the plugins which are not available on the WordPress plugin list.
Manually installing a plugin through FTP client.
Top SEO friendly plugins on WordPress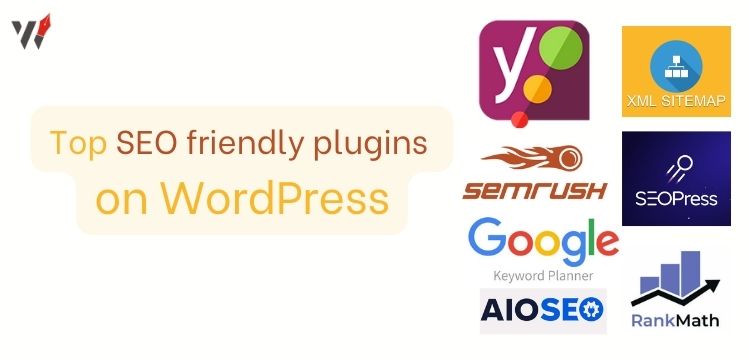 If you're wondering which plugin is the best for your website, there are so many plugins to choose from. You should have a better understanding of your website to choose your plugin. Not everything is free though! And some plugins are just better than others!
WordPress SEO plugin through YOAST –
It is one of the most popular SEO plugins which comes in both paid and non paid versions.
It allows you to optimise your WordPress site.
Helps you to put SEO headers and titles and relevant description on all the posts and pages of your website.
It forms a very powerful alliance with Seamrush (another plugin) to accelerate your website's visibility. Also creates XML sitemaps and effortlessly connects your website to Google Search Console.
Read about 7 SEO Friendly Headline Tools: 7 SEO Friendly Headline Tools you Need right now
Semrush –
It is a free website plugin which provides continuous SEO recommendations for accelerating content based on Google's top 10 ranking pages. It also comes with a readability score and anti-plagiarism software helps the author to submit original content.
Google XML sitemaps –
It is a free to use SEO plugin which creates sitemaps for various search engines. An XML sitemap helps the search engines like Google, Yahoo, Bing see the things you want to get indexed and then help them crawl these areas of your website.
It is very easy to use since it automatically updates the sitemaps when you upload new content. Also once it is installed, you don't really have the need to do anything else with it. It'll get its own work done by itself.
Google Keyword Planner –
No one other than this giant Google knows what exactly are the things people are searching for. This is a free to use tool given to advertisers to look at the keywords for which they can bid for their advertising campaigns.
As a content creator, using this data of keywords can sufficiently increase your visibility results and outranking other websites in a very organic manner.
SEOPress –
It is a popular yet a very simple WordPress SEO plugin. The low cost of this plugin does not affect the quality SEO recommendations it has along with a set of efficient features.
It helps to optimise literally everything starting from meta-description, sitemaps to broken link checkers etc.
It is a very beginner friendly plugin with an easy set up with an option of advanced control for advanced users.
Rank Math –
It is a plugin which helps your visibility in both search engines as well as on social media. It is super easy to set up and configure. It allows you to import data from other plugins during setup.
It allows you to create XML sitemaps and also its integration with Google Search Console makes it extremely efficient. It also has the option to integrate many keywords. And henceforth it is widely considered one of the best plugins available.
All in One SEO for WordPress –
It is the best SEO WordPress plugin available in the market currently. It is being used by 3 million plus user all over the globe being the most efficient toolkit that increases your visibility without you having to learn anything complicated related to SEO jargon.
It is user friendly which comes with a set-up wizard that selects the best SEO settings for your website, on its own. It also has TrusSEO, an on-page analysis with a to-do checklist to increase visibility of your website, pages or posts.
The on-page SEO to-so list comes with a meta-tag generator for dynamic values like current year, day, info of author into your SEO title. That is to say you don't have to change your entire content for the sake of the current SEO.
It also comes with RICH snippet schema markup, XML sitemaps and SEO health check-ups to grow your website's visibility organically.
It has a social media association which allows you to select your own thumbnail when your website is being shared by users on social media.
The WooCommerce SEO tool helps to attract more traffic to your online store. For business users, you can import important SEI features to gain more control over your website.
Read about 8 WordPress Plugins and Tools: 8 Best WordPress Plugins And Tools
Final thoughts
So it comes down to the fact that the best SEO plugin for you will be based on the individual needs. When selecting a plugin it's important to see if it has an on-page analysis of your website's visibility to exactly understand what is going on behind the scenes. Remember to always check reviews. Plugins impact site performance, so selection of a plugin which meets your needs is a must.
Read 4 Key SEO benefits for business: 4 KEY SEO benefits for business
Frequently Asked Questions –
Does your business need SEO? – Yes, every website, not just a business one needs SEO. It helps to optimise your visibility on search engines without having to pay for it.
How to find the correct keywords? – Using Google Keyword Planner, you can easily search for the relevant keywords which people are actually searching for.
How long does it take to rank on Google? – Well, there's no perfect answer to this. It sort of depends. Long gone are the days when you launch a website and get ranks within weeks. The competition is very tough these days and it solely depends on how efficiently you can run a website but catering into today's demands.
What are Google's most important ranking factors? – On 2016, Google's most important ranking factors were – link, content and Rank Brain.
References –
What is SEO and how does it work?: Blog: Online Digital Marketing Courses