There is a vast difference when we talk of Freelancers and Content writing agencies.
To say who's better would be quite a difficult task, but to say it will be better to work with a content agency than with a freelancer is sure.
This is a topic that could be debated over and still to reach a conclusion would be tougher than ever. A freelancer is an expert, no doubt, but whether he is able to work for you as a complete professional is doubtful. Does he have expertise in the field you require is again a question. Such questions though do not arise when working with a content agency.
Working With Content Agencies
Working with writing agencies means hiring people who know what all you need. As a Client when you are paying you wish all your requirements are met, you get quality content. Your requirements are read thoroughly between the lines and get fulfilled.
Content agencies have various writers working together having expertise on various different niches. So when you, as a client, invest with Content agencies you need not to be worried about a particular type of content. You can have content on any field you please.
Content agencies make sure to provide you with Plagiarism free content.They run various plagiarism checks on what they are providing you. Also the content passes various stages and is proof-read several times.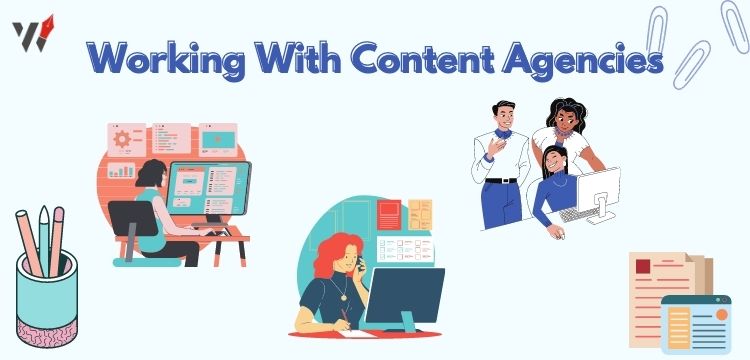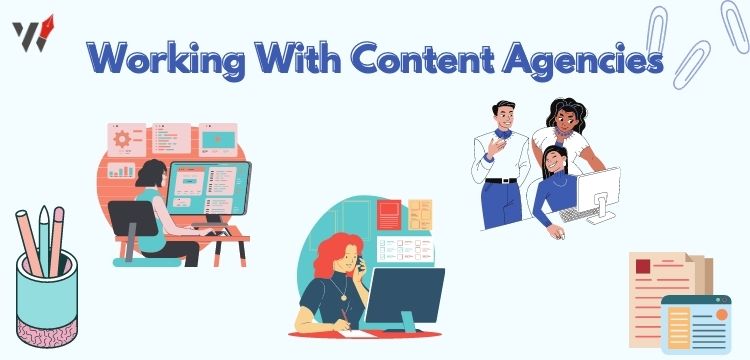 Read about 6 Simple Plagiarism software: 6 Simple plagiarism checkers softwares to avoid duplicate content
Also it makes a lot of difference when you work in a professional environment than when you work at your own leisure. You have competitors to out do, appreciation to receive, incentives that you might get. All these things in a professional environment add to your enthusiasm to work better and motivate you everyday.
Also Content agencies work for their clients with an attitude to provide them the best so that the client thinks of them every time he needs work to be done.
Content agencies run SEO checks on their content each time they provide work to their clients. The main aim of these agencies is the satisfaction of the client and providing high quality content.
Working with Freelancers
A freelancer is an independent individual working for himself to earn. A freelancer can provide quality content depending on the work given to him is what he is expert at. It is not necessary that a Freelancer is an amazing Content writer who knows everything about the field of Content and SEO. It might be that an individual who is strong in creative writing is working as a freelance content writer.
The main aim of freelancers is to earn and work according to their own available time. Freelancers do not work in a professional environment so there is no healthy competition and anyone to appreciate and motivate them to do better.
When as a client you invest with a freelancer you need to think because it is not necessary that what you need is what your freelance writer is expert in. It is not necessary that a freelance content writer has all the knowledge about SEO and SEM. In addition to this, Proof-reading can become a hectic task. To understand the errors in a content written by themselves is a little difficult and a proof-check needs to run from the end of the client as well.
Also Read: The Miraculous effects of Brainstorming your Content
Differences Between Content Agencies and Freelance Writers:
Content agencies provide content that is SEO specific and follows the guidelines of SEM. Freelancers on the other hand may or may not provide content which is SEO specific.
Proofreading is not your tension when you are investing with content agencies but it might become quite a hectic task when working with freelancers.
Content agencies are more specific about the deadlines as they work as a professional unit whereas freelancers work at their own leisure and deadlines for them are time periods in which they give you the work which might have to be edited thereafter.
Main aim when working as a freelancer is to utilize your skill to earn money. Content agencies on the other hand work to provide quality content to make permanent clients.
Content agencies have many writers working under them so working on every niche becomes an easy job whereas a freelancer is a single individual and doesn't hold expertise in every field.
Freelancers might withdraw from a project in the middle whereas a content agency stands on its words and would never back off from work in the middle of it.
Similarities Between Content Writers and Freelancers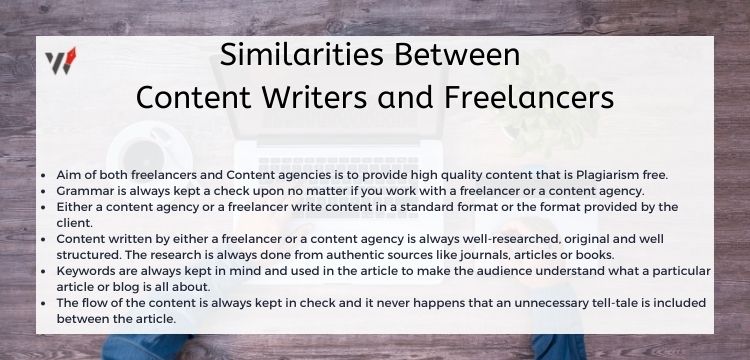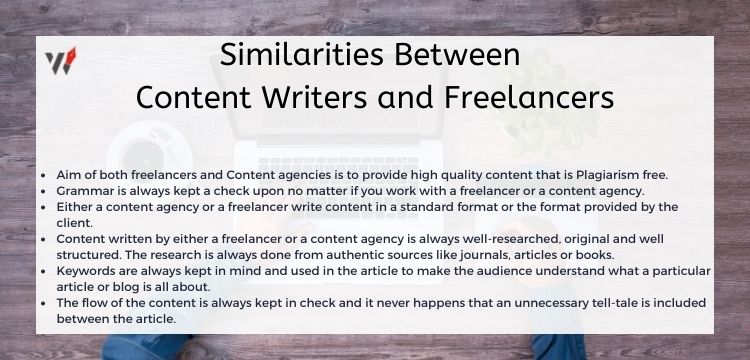 Aim of both freelancers and Content agencies is to provide high quality content that is Plagiarism free.
Grammar is always kept a check upon no matter if you work with a freelancer or a content agency.
Either a content agency or a freelancer write content in a standard format or the format provided by the client.
Content written by either a freelancer or a content agency is always well-researched, original and well structured. The research is always done from authentic sources like journals, articles or books.
Keywords are always kept in mind and used in the article to make the audience understand what a particular article or blog is all about.
The flow of the content is always kept in check and it never happens that an unnecessary tell-tale is included between the article.
One needs to decide on one choice and after seeing the work whether he wants to work with a content agency or a freelancer. There are pros and cons to everything. So you need to decide where you will get a worthy result when you invest your money.
Conclusion
Writing agencies thus are more equipped and have a fair Idea of what is to be done and how to be done. They have multiple writers working for them who have expertise in different niches and provide the client with the best quality work. Freelancers on the other hand work for themselves and a single individual can't be expert in all the fields thus quality of work differs depending on the topic and the expertise of the individual. Working agencies run multiple Proof-reading checks on the article whereas a freelancer proof-reads his own article and submits the work. This comes as a drawback because to find errors in what you have written is a little difficult.
Content Writing Myths and MythBusters you should know: Content writing mythbusters | 8 content writing myth quashed.
FAQs (Frequently Asked Questions)
What is the best platform for the Freelance writers?
Freelance writers can work on various platforms to earn their living. Some of them are BloggingPro, Skyword, Contently, Clearvoice and many more.
Niche is your area of Expertise. As a writer you should be able to write about anything and everything. But there might be topics where you face writer's block and then there might be topics you can go on writing without a pause. Such topics about which you can go on and on are known as your niches.
As a writer your job is to provide 100% original Content to your client. Plagiarism is detected when you have copied your content from a certain source. There are various tools to check whether what you have written is Original or Copied.
What degree does one require to be a Writer?
There is no specific degree required to be a Writer but a knowledge of various topics. Though to get a deeper knowledge you can do a certification course on Content Writing. There are certain terms which are specific to the writing field that one needs to know but there is no specific degree for the same.
How do I begin if I have no writing experience?
Go for a certification course or you can go to platforms offering free courses about blogging and writing. Once you know what to do and how to do it, you can publish your content on WordPress or Medium or any other blogging site. You can create a few Google Docs on any topic. Once done you can start with various internships. Internships give you experience and your docs and blogs work as your sample work. You can then apply for full fledged jobs as a Content Writer or Content Analyst.
What is the Average Salary of Content Writers in India?
On an average a Content writer in India earns 40000 per month.
References
"What is the Difference Between Content and Freelance Writers?" Quora, www.quora.com/What-is-the-difference-between-content-and-freelance-writers.
"Agencies Vs. Freelancers | Articles | Outbrain Help." English (US), 18 Sept. 2017, www.outbrain.com/help/advertisers/agencies-vs-freelancers/.
Hite, Haley. "Should You Hire a Freelance Digital Writer or a Content Agency?" Aha Media Group, 25 Mar. 2021, ahamediagroup.com/blog/2019/09/difference-between-hiring-freelance-digital-writer-vs-content-agency/.