Everyone including pets has Instagram accounts. So why not businesses? Instagram plays a very powerful role for brands that prioritize their digital presence. Whether it's a small business or a big brand, everyone tries to reach the maximum of people out there. Want to take your e-commerce store to heights? Instagram marketing should top your skillset.
Instagram has developed and evolved at a comparable rate to Facebook in recent years, implementing new services at a breakneck pace and becoming really important to businesses and regular users. 
Instagram is difficult but not impossible. With some marketing tips and a creative Instagram marketing strategy, you can ace the market out there!
This guide will help you do that. Without any further ado…let's get started.
Suggested blog:
What is Instagram marketing?
Instagram is clearly no longer only for personal usage. It's now a worldwide platform that allows businesses to personalize their content, acquire fresh talent, display their products, and enthuse their customers. There are over 1 billion monthly users of the social media platform that really benefits businesses to get high engagement.
Instagram marketing is the practice of leveraging the social media platform to raise brand awareness and promote new items. Instagram allows you to personalize your brand and communicate with your audience. It's a terrific medium for innovators and enterprises trying to expand organically.
Who is your audience? Normal people who are online shoppers. The majority of people worldwide use online apps for shopping. Other than big names like Amazon, Facebook, Myntra, and many more, today Instagram has also become a prominent shopping source.
Let me show you some statistics:
Nearly 11% of US social media users shop on Instagram
130 million people tap on Instagram Shopping posts every month.
People are using Instagram earlier in the buying cycle, with 81% using the social media platform to research products and services.
80% of Instagram users follow at least one business profile, and 72% of users say they've purchased a product they've seen on the platform.
Around 62% of people say they have become more interested in a brand or product after seeing it in Instagram Story.
 (Source: shopify)
How to get started with Instagram marketing?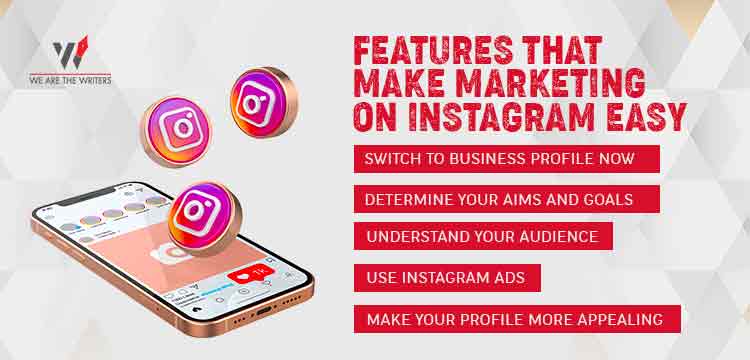 It takes time to set yourself amidst the competition on digital marketing platforms. You need to start today in order to have a better tomorrow. Glance through some marketing tips very minutely and understand how you can begin with your marketing on Instagram. 
Have a personal account? Switch to business profile NOW
Switching to a business or creator profile is an easy task. Just a few clicks and your work is done. You can develop and post Instagram ads without having to use Facebook's advertising tools if you have a business profile. You may have access to Instagram analytics tools called Insights to get information about your posts' impressions and reach.
You should start using the free perks that come with a business profile to measure analytics and understand your audience after you've unlocked them. Start immediately so that you can make strategies accordingly.
Determine your aims and goals
Be very clear about your content strategy. Have a calendar prepared for the entire month. Decide how you want to make your feed look like. Fix the timings and try to do it within the stipulated time. 
Prepare a questionnaire of the goals that you want to achieve by marketing on Instagram. It can be anything from the target of followers in a week to a number of conversions every two weeks. Your Instagram marketing strategy should include all these necessary points that will make it easier to increase brand awareness and reach.
Understand your audience
An important objective in your Instagram marketing strategy is to know what your audience wants. You have to understand what kinds of posts perform the best on Instagram if you want to see outcomes. While each category of users is unique, there has been a wealth of data accumulated that might help us figure out where to begin.
Users are quite agnostic when it comes to the types of Instagram postings they wish to view. Promotional posts, encouraging slogans, product shots, DIY or tutorial content, and user-generated content make them pleased. There are various methods to connect with an Instagram community and jazz up your followers' feeds, from product carousels to engaging elements like Reels.
Use Instagram ads
People are more attracted to seeing something visually than reading a long paragraph or so. Instagram advertisements have become mainstream. Having an ad budget allows you to decide just how much you want to spend on them. With the carousel option, you can display either one sponsored ad or several advertisements.
This allows marketers to target their consumers in entirely new ways. Only individuals who followed your account could see your updates and images before sponsored postings. Brands may now market their photographs to everyone who fits their target audience, allowing them to reach a wider audience than ever before.
Make your profile more appealing
The bio section has a limit of only 150 characters. Use these numbers to make the best of what you can. What you choose to publish here will be indicative of your business and show your followers what you do as a company, as your bio is indeed very unique to your identity. Well, we understand it's a lot to expect from a restricted space. But do not worry, you'll also discover a few extra areas on your Instagram profile to help people locate you and display what your brand is all about.
You can add your website link, you can also include CTA options to have direct contact with. Make sure your bio includes your brand slogan or tagline if any. A tagline makes a great impression as it gives a strong message and states your brand's goal within a few characters.
Suggested Read:
Features that make marketing on Instagram easy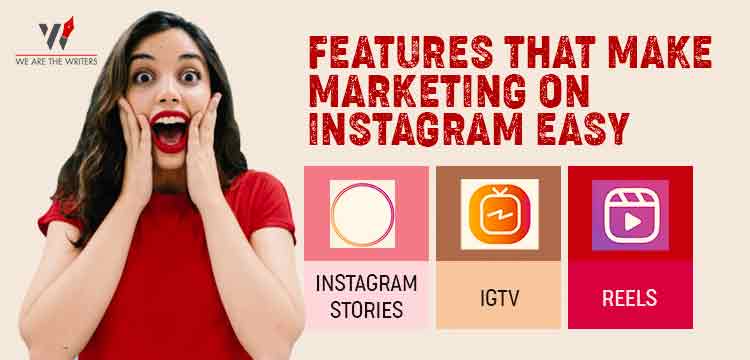 Instagram is Gen Z social media platform with amazing features. It includes a lot of great features that help influence people and brands to connect and grow their connections. Let's check out some features you can use for Instagram marketing.
Instagram stories
Millions of people use insta stories. Ig stories are more appealing and intriguing as they have a 15-sec time limit and disappear after 24 hours. Stories are a valuable complement to your Instagram marketing plan since they allow you to focus on topics that are more timely or in-depth, or that don't really require a full post. Often confused about what to post on stories? Options are many.
You can create questionnaires, polls, ask questions to just INTERACT, and do nothing. You can arrange live sessions of 15-20 mins and talk about regular stuff. Post countdowns or teasers of your upcoming products or services. Promote blog links that increase your website traffic. Include BTS videos to make it look more real. If you think, ideas are many. You just have to implement them in the right way.
IGTV
IGTV is created specifically for lengthy videos. These can last anywhere from 10 minutes to an hour for profiles with a large following. It's akin to Instagram's version of YouTube.
Users can use IGTV to search for videos that interest them, as well as receive suggestions based on their previous behavior and activity. This ensures that audiences are exposed to content they will enjoy. You can start with an IGTV series and be consistent with it.
Reels
For its brief 30-second duration, Instagram Reels are perfect for connecting with your audience on a more intimate level. For marketers, the most appealing feature of Reels is how it promotes genuineness. Your audience wants to learn about your business and its community, not just get product pitches slammed in their heads.
If you have a product, flaunt it. If you are a digital marketing brand, offer marketing tips and make your reels informative so that your audience gets to learn things. Share your CEO's morning routines, vlogs from a meeting your staff is attending, or daily outtakes with which your audience may identify. Mix trending memes with your brand and make something amazing out of them.
Some marketing tips for you!
Instagram marketing is for e-commerce platforms. Set your own shop on Instagram. Include your products there. Repost them in your stories, Research shows that more than 130 million users click on the shopping tab on the explore page. Now you know how beneficial it is!
Post relevant content. Your feed should involve posts out of nowhere. You have a particular niche. Puck ideas regarding that and make your posts accordingly. Also when using reels and IGTV, post something that your audience understands and that represents your brand's personality.
Write captions. Be it lengthy pr short, make sure its' worth their time. Make your captions interesting with catchy phrases, gaps, and the use of emojis.
Organize small giveaways. Partner with other brands and host contests with small prizes or hampers. This way you can entertain and retain your loyal audience.
Want to be on the Explore page? Use good hashtags. Analyze which hashtags are performing well in the current scenario and use them. Create your own hashtags. Put them in your stories. Rather than following a trend, start a trend. Also, you can follow hashtags to stay updated with the latest trends in your domain. Sometimes, low-density hashtags can give you more success. Therefore, mix high and low-density tags and add them n your posts and stories.
Collaborate with influencers. If you really want to reach out to potential clients on Instagram, the quickest option is to work with influencers who already have a significant following. People are increasingly purchasing services or items based on what they see in their social media feeds from powerful people they follow. They have faith in them. One can get your business in front of all those people if you connect with the correct industry influencers.
Be original. Be YOU! Do not try to imitate other brands' Instagram marketing strategy. What worked for them might not work for you!
We come to an end…
You can now create a whole sales funnel on Instagram thanks to eCommerce capabilities like shoppable Stories, Instagram stores, and in-app checkout. To drive sales, discover ways to keep consumers connected with your company on Instagram, and sometimes push them with specials and shoppable posts.
Make most of your Instagram marketing strategy and achieve milestones!